Main content starts here, tab to start navigating
Atom Burger
Slide 1 of 2
Slide 2 of 2
Menu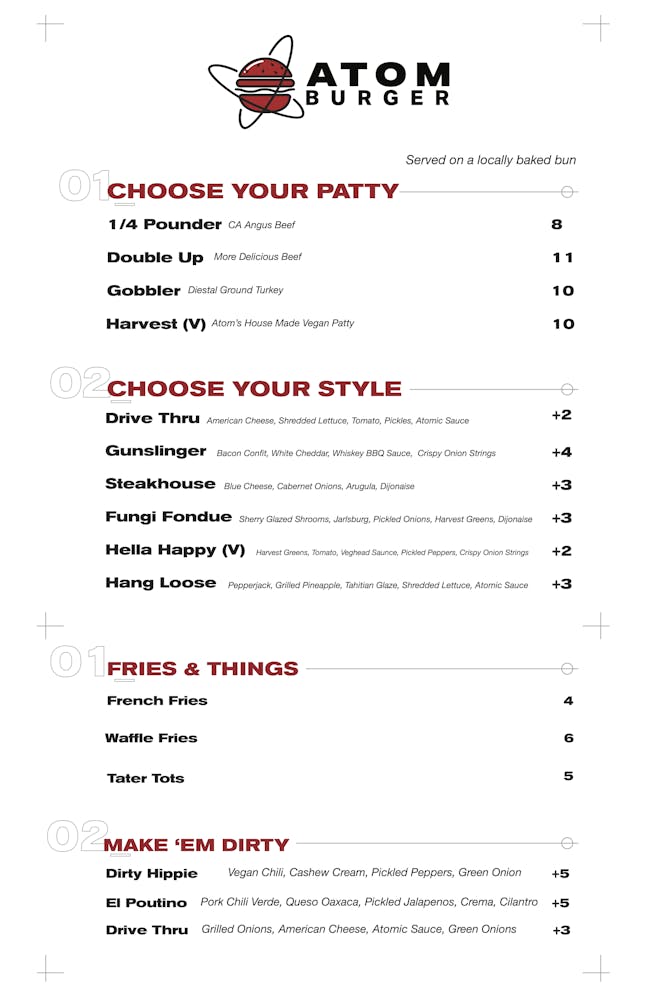 Call to preorder: 916-382-9608
About Atom Burger
Atom Burger is a chef-driven burger bar that fuses the nostalgia of the classic burger joint with the quality and care you find in a restaurant burger. Most burgers are good but for a burger to be great, it starts with quality ingredients. Our chefs have sourced the highest quality ingredients from top to bottom bun. From California raised beef and turkey to artisan cheeses and locally baked breads, our burgers are built with the best. Even simple things like lettuce and tomato are sourced from the Sacramento region's many bountiful farms. Our chefs then take all that impeccable product and apply the skills and techniques they've learned over years, perfecting their craft and turn it into something far from ordinary. While some chefs say, "eat it my way," we go the other way. What do you want on your burger?
Brought to you by Chef Adam Pechal
Slide 1 of 9
Slide 2 of 9
Slide 3 of 9
Slide 4 of 9
Slide 5 of 9
Slide 6 of 9
Slide 7 of 9
Slide 8 of 9
Slide 9 of 9
Sign up for more exciting news coming very soon!